News
Thank you Hello Magazine. Ludus Candles Hello Magazine top 22
by Hywel Lewis on Nov 02, 2023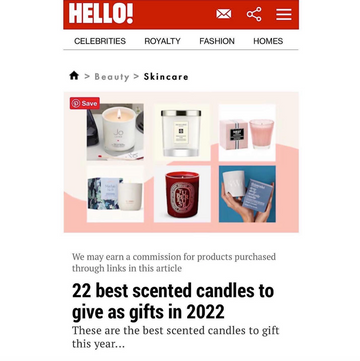 We are thrilled to announce that our scented candles have been recognized and featured in the prestigious Hello Magazine's list of the "22 Best Scented Candles to Give as Gifts in 2022." This is a momentous achievement for us, and we couldn't be more excited to share this news with our valued customers and supporters.
A Testament to Quality: Hello Magazine is renowned for curating high-quality products and gift ideas, making this feature a testament to the exceptional quality and appeal of our scented candles. Our team has worked tirelessly to create unique and captivating fragrances that bring warmth, comfort, and relaxation to any space, and it's an honor to see our efforts recognized on such a prominent platform.
The Art of Gifting: Choosing the perfect gift can be a daunting task, but a scented candle is a timeless and thoughtful choice. It not only fills a room with delightful aromas but also creates a soothing ambiance. Hello Magazine's inclusion of our scented candles in their coveted list reaffirms their status as an ideal gift choice for various occasions.
Aromas to Delight the Senses: Our scented candles offer a diverse range of captivating fragrances that cater to different preferences and moods. Whether you're looking for a cozy and comforting scent for a winter evening or a refreshing aroma to invigorate your senses, we have a candle to suit every taste.
Exceptional Craftsmanship: Each of our scented candles is handcrafted with meticulous attention to detail. We use premium quality wax, natural fragrances, and lead-free wicks to ensure a clean and long-lasting burn. Our commitment to craftsmanship and quality has made our candles a favorite among those who appreciate the finer things in life.
The Joy of Gifting: Gifting is an art, and our scented candles make it easy to spread joy and warmth to your loved ones. Whether it's for a birthday, anniversary, holiday, or just a thoughtful gesture to show you care, our candles make the perfect present. Hello Magazine's recognition highlights the desirability of our candles as a gift that truly resonates with people